Nearly 16 years ago, faced with a very big decision regarding who I would ask to consider becoming the next editor of The Christian Index, I made one of the finest decisions of my entire ministry, and especially of my ministry as executive director of the Georgia Baptist Mission Board. I reached for my cell phone late one afternoon and called Gerald Harris, one of Georgia Baptists' leading pastors, and a dear personal friend, and asked him if he would consider accepting an invitation to become the next editor of the oldest religious publication in America.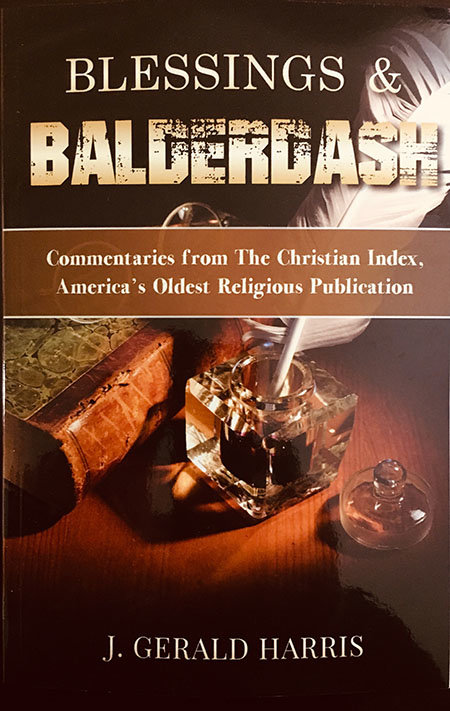 Gerald agreed to pray about the opportunity and to discuss the matter with Martha Jean, his precious wife and effective companion in ministry for many years. His answer became "yes," and for more than fifteen years, Gerald produced what is, in my opinion, Southern Baptists' finest state Baptist paper. The Christian Index under Gerald's leadership soared to unusual heights of notoriety among Southern Baptists. Read faithfully by Southern Baptists across the world, the paper proved to be a reliable source of Southern Baptist news and displayed the many amazing ministries of our Georgia Baptist churches and associations.
Gerald's editorials have been consistently informative, challenging, inspiring, and sometimes angst-worthy, especially among those who found themselves on the uncomfortable end of Harris' journalistic forthrightness. I believe it was his candor and unabashed commitment to the truth that was most attractive to readers. His conservative viewpoint, his rock-solid theology, and his uncanny ability to put into words what a lot of people may be thinking, but had not stated, caused his audience to grow significantly in the passing of time.
With the waning of print media, Gerald made the courageous decision to move The Index to an online edition. This was a wise fiscal decision which actually exposed the paper to many more readers. He hoped to reach the goal of one million page views in 2018, his final year as editor. He surpassed that goal by reaching a remarkable 1,920,841 page views!
The centerpiece of every edition of the paper was Harris' editorial. Poignant, feisty, honest, straight forward, spiritually-convicting, and inspiring, his editorial would be the first read for most people. In recent days, Gerald has blessed us by publishing a collection of his finest editorials. I have just finished reading back through these artistic works of inspired literary giftedness. As I reviewed the editorials, I saw them through a pastor's eyes and discovered a lot of wonderful illustrations and inspirations for sermon preparation. There are one hundred editorials that are relevant and entertaining as well as convicting and encouraging. Reading one a day or reading the entire book over a brief period of time is sure to bless your quiet time.
Gerald titled his book, "Blessings and Balderdash, Commentaries from The Christian Index, America's Oldest Religious Publication."
I encourage you to secure a copy, find a quiet place and begin a delightful time of reading and inspiration. You will be blessed.
(Harris' books may be secured by contacting him at gharris@loveliftedmehigher.org)