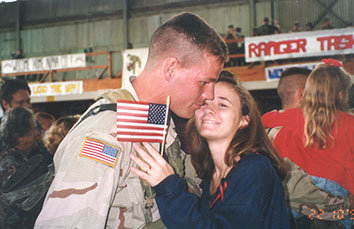 Jeff Struecker hugs his wife, Dawn, in 1993 immediately after his return from the operation in Somalia that would become the basis for the movie "Black Hawk Down." JEFF STRUECKER/Special[/caption]
COLUMBUS — No one claims they were ready for the Sept. 11 attacks, but Jeff Streucker was better prepared than most. Memories from earlier experiences guided him. To face the present, it had become critical to never forget lessons already learned.
At 18 years old Struecker joined the military. He'd had a reckless youth and felt it was a good way to get some discipline and travel. Admitting he was drawn to "the guys who blew stuff up," he became a U.S. Army Ranger. For the next 12 years he'd work his way from Private to Major.
And he traveled. Most notably, Struecker experienced combat in Panama, Somalia, and Iraq. Actor Brian Van Holt played him in Black Hawk Down, chronicling Streucker's experience in Mogadishu in 1993.
The final ten years of Streucker's 22-year military career came as a chaplain. Assigned to the 82nd Airborne Division, he remembers finishing up a 24-hour assignment on the morning of Sept. 11, 2001 at Fort Bragg. He was just about to leave when he saw the news on TV.
The events of that day, he says, triggered a mentality in the warriors he ministered to. But, it also began a conflict in him.
'If' to 'when'
"Even though that unit had been constantly preparing for combat, most people aren't expecting it," Struecker, pastor of Calvary Baptist Church in Columbus, explains. "The general impression is if you go to war. After 9/11 that became when you go. How you viewed war completely changed."
When the 82nd deployed for Iraq soon thereafter, they weren't the only ones fighting emotions. From the moment he'd seen airplanes enter buildings full of Americans, Struecker battled his personal response to the attacks.
"It was pretty complex for me. I'd made the transition from warrior to chaplain before 9/11. But, I wanted to see our country prosecute these men and bring them to justice. I had to remind myself that my role wasn't to kill the bad guys, but minister to the soul of the American warrior and their families. I needed to think about their spiritual condition."
He wrestled with it during his first deployment to Afghanistan after the attacks. Close to the front lines, he fought against thinking tactically on where to attack and maneuver. Consistently, Streucker conditioned himself to focus more on spiritual matters. That first deployment lasted nine months. Fourteen more followed.
Prepared for this time
Struecker doesn't buy into the there-are-no-atheists-in-foxholes adage. His experience is whatever spiritual grounding you have, combat typically intensifies it.
"I've gone to the battlefield with the same unit several times and with different units. I noticed the same thing every time. People go to extremes, spiritually. I've been blessed to see guys' faith get much stronger in combat. But, I've also seen guys become very hardened toward God."
His early chaplain deployment attacked him spiritually, but he says in a good way. One aspect of his past set him apart from most chaplains. "God reminded me how I had all this combat experience and trained to be a chaplain. He'd been preparing me for this. I couldn't mess it up."
Reminders
America experienced a brief time of revival post-9/11. Chaplains and pastors saw it fade. Struecker sees a common thread with many Christians.
"If we can forget something as catastrophic as 9/11, what if we forget what it was like to be a sinner separated from God? Repentance for the believer is a continual call. Like America on Sept. 11, we can never forget."
Many scenes from 15 years ago made Struecker angry. For 15 minutes he watched the news that morning, wondering if he was hallucinating from being so sleep-deprived. Then it became real. Though he'd just gotten off 24-hour duty, it would be another 20 hours before he could sleep.
Others scenes gave Struecker hope at the time, but now serve as measuring point for where his country is today. The memories of Americans, as well as Christians, fade with time. Each September, social media encourages those to remember the 9/11 attacks with the #NeverForget hashtag. Remember when four hijacked planes drove a nation to its knees 15 years ago, literally and spiritually. Remember the introspection that followed in the days and months afterward.
"I'd love to see Congress stand on the front steps of the Capitol building and sing 'God Bless America' again," Struecker wishes. "I'd give my right arm for it.
"But what would it take for that to happen?"