CUMMING — When Alan Morris first heard the suggestion from his friend Gary Bulley, the idea seemed so simple yet made so much sense.
Toward the end of 2015, Bulley, pastor of Living Stones Church in Cumming, approached Morris, North Central Area Missions director, on a way to help churches in Latin America become more viable. It would center around a school that met in various locations and could be made possible through American pastors serving as teachers.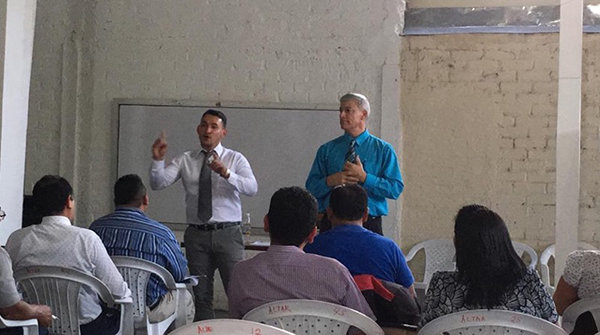 Alan Morris, right, teaches a Theology of God class in in Zacatecoluca, El Salvador. ALAN MORRIS/Special
"Gary had a missionary contact in El Salvador who could get it started. I knew pastors who could teach," said Morris.
"In the New Testament Paul would go into a city and raise up leaders," he explained. "He'd help establish those leaders and then leave, trusting the Holy Spirit to help them grow."
The model inspired from Scripture became the Global Network of Theological Training, set to celebrate its third year next week. With 15 locations throughout Central America, Bulley anticipates that number could reach 20 by the end of 2019.
"I kind of feel like we've got a tiger by the tail," he admitted recently. "The Lord provides incredible field partners. Most are nationals; some missionaries.
"The school consists of a scaled-down curriculum taught in a culture where it's not uncommon for bivocational pastors preach six nights a week. It's just what's expected."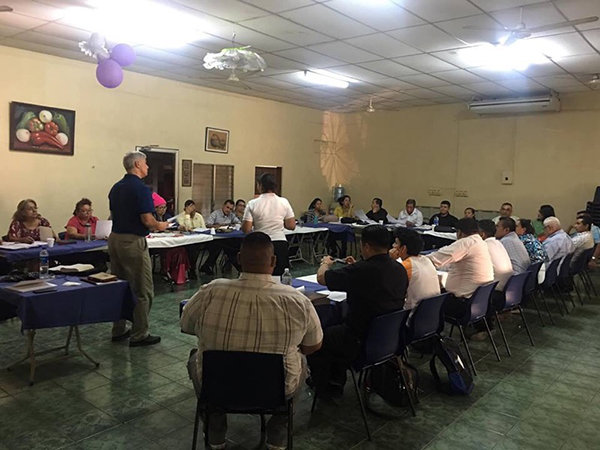 An Old Testament Survey class in San Salvador pays attention. ALAN MORRIS/Special
A course of training packed into one week
Organic growth in a church became more possible when led by a pastor from the area, Bulley and Morris figured. So, the surest way to guarantee that was to offer basic theological training for those pastors. Bulley's background includes leading church planting and revitalization at the North American Mission Board, so his experience lent itself toward success.
To make the schedule work, though, requires a lot of commitment. And stamina.
On Monday pastors fly to where they'll teach around seven hours that day, Tuesday, and Wednesday. They travel to a different location and do the same Thursday and Friday. They fly back Saturday. American pastors won't even miss a Sunday in the pulpit. The schools aren't brick-and-mortar, but provided locations to meet. There are eight locations in El Salvador, four in Honduras, and two in Peru.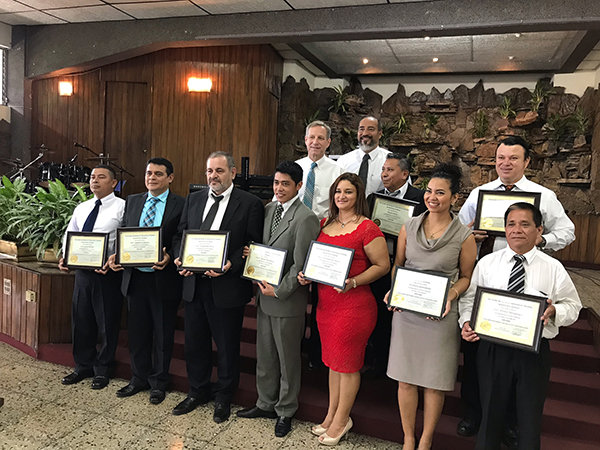 The inaugural graduate class of the Global Network of Theological Training stand proud. ALAN MORRIS/Special
As of right now the 15 or so pastors involved come from Etowah, Hightower, Lanier, and Roswell Baptist associations, which make up the North Central Area Missions Program. Bulley called the work they do "foundational."
"All four people who write the courses either have a PhD or taught at an accredited Bible college. Three are former missionaries. All have pastoral experience. And while the institutes (each location) are Baptist, students from all denominations attend."
What it brings back home
The energy Georgia pastors get from the experience stays with them, said Bulley.
"Guys are always excited to go back," he said. "They see incredible fruitfulness. It makes a difference that the students are already pastors and understand their need for the material.
"We're just trying to keep up with God."
Bulley added that there was no intention of going beyond one teaching location. But, word of mouth traveled, and it began to grow exponentially. A marginal $5 fee is to help provide for materials, but pastors and church leaders wanting to take part aren't turned away. Classes typically have 30-35 students, he said.
Morris emphasized it was important for teachers to have the right spirit when presenting the materials.
"We wanted those who were humble, someone God could use. But, they also had to have a solid basis in theology. Every pastor we've sent goes with that attitude. They see it as God allowing them this opportunity. That attitude speaks volumes to these pastors."
When those pastors come back to Georgia, Morris notes the difference.
"The hunger for the word of God is so strong. One student rides a bicycle three hours one-way to class. Afterwards he rides home, works, goes to bed, then gets up the next morning and does it again. The commitment level is unreal."
Can work anywhere, worldwide
Seeing the desire for growth tells Bulley the hunger for training doesn't have to be limited to Central America.
"We have a heart for training pastors. I read somewhere that in America we have one trained (Bible college or seminary) pastor for every 250 people. But in developing countries that number goes to one trained pastor for every 450,000 people. The need is great and we can't do it ourselves.
"If there are pastors and churches in Georgia with mission partnerships around the world and looking for a way to leave a significant impact, I can't think of a better way than to train local pastors. The materials we've produced are free to use, and I'll help train pastors wanting to teach myself."
The goal, he said, was to produce pastors who can lead churches to create other churches.
"It equips pastors in doing the fundamentals of their jobs. We don't want to make them an American church. We want them to reproduce.
"These are godly men who haven't had the advantage of good models and training. When we give them that, it's amazing what they do."