ATLANTA — R.A. Dickey, an overcomer well-known for his knuckleball, is a pitcher for the Atlanta Braves. The Braves are seeking to create a franchise that will match the transcendent grandeur of SunTrust Park, their brand-spanking new stadium overlooking the freshly designed interchange of I-75 and I-285 that now rivals Spaghetti Junction for its multiple overpasses.
During the offseason the team's management began the rebuilding process with the pitching staff. According to Mark Bowman of MLB.com "they started looking for some veteran arms who were willing to accept a short-term deal and essentially serve as a bridge toward the club's future."
Dickey, a former Cy Young winner, started his major league career with the Texas Rangers but had his award-winning season with the New York Mets in 2012 when he posted a 20-6 record with a 2.73 ERA. From New York he went to the Toronto Blue Jays and pitched north of the border for four years.
Dickey, 42 and a native of Nashville, was looking for a chance to pitch closer to home. The Braves' offer provided that opportunity as well as gave him a chance to extend his career.
One of the most attractive things about Dickey to the Braves organization was his durability and record of being able to pitch deep into the games he started. He completed at least 200 innings in six of the past seven years and seems to be on track to add another year to that impressive statistic in 2017.
Bowman added, "He's a good person and southern boy that has come back to where it all started." For The Christian Index readers it should also be noted that he is an unashamed follower of Jesus Christ.
When Dickey's parents separated he felt lonely and began to struggle with his identity. At age eight, he was molested by his babysitter and later violently raped by a male stranger. He commented, "When you are abused you feel less than human. I began to feel like, 'Do I even matter? Why should I be here?'"
Baseball success, and then ...
At age 13 Dickey made a profession of faith in Christ, but even that did not bring the emotional relief he sought. However, his interest in baseball and pursuit of excellence as a pitcher in high school brought another focus into his life, which offered some relief.
The Nashville native was awarded a baseball scholarship to the University of Tennessee, where he excelled. Afterwards the Texas Rangers selected him in the first round (18th pick) of the 1996 Major League Baseball draft. The Rangers offered him a contract of $810,000 with the promise of additional money if he decided he wanted to go back to school.
Unfortunately, a physical exam revealed that Dickey lacked an ulnar collateral ligament in his elbow, resulting in the Rangers reducing the contract offer to $75,000. He spent much of the next nine years in the minor leagues, fighting for his baseball life.
The velocity on his pitches was declining and he began working on his knuckleball. In 2006 he made the Texas Ranger's roster as a knuckleball pitcher and in his first game set the ignominious record of giving up six home runs in one game.
Consequently, he was sent back to the minors and was so depressed he decided to take his life. Dickey duct-taped a hose to his car's exhaust pipe, connected it to the driver's side window, stuffed towels around the top of the window to seal the flow of oxygen into the car, and placed his hand on the ignition.
"The only thing that saved me in that moment was that I sensed God was with me and telling me not to turn that ignition – that He had something else for me," Dickey stated.
One last breath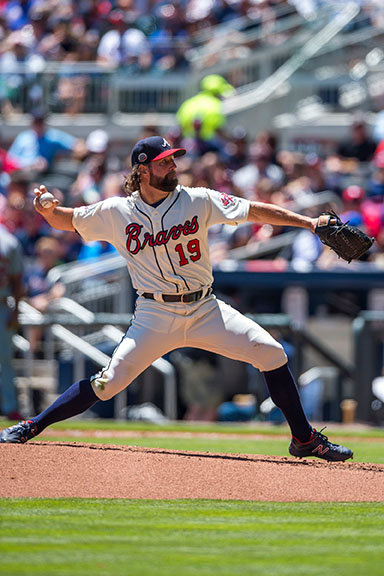 "Ultimately, our lives hinge on the ability to make right choices and decisions. By God's grace, I made the most important decision a person can ever make," says Braves pitcher R.A. Dickey, here delivering a pitch against the St. Louis Cardinals. Photo by Logan Riely/Beam Imagination/Atlanta Braves/Getty Images[/caption]
In 2007 Dickey was pitching for Omaha, an AAA minor league club, and one day decided to try to validate himself in front of his teammates by swimming across the Missouri River. The current was so swift that he was swept several hundred yards downstream and began to suffer exhaustion.
At one point he was about to give up and submit to the wrath of the river and resign himself to death by drowning. Before opening his mouth to take in the water that would hasten his death he surrendered himself anew to God. He suddenly got an adrenalin rush and managed to get back to the bank of the river where a teammate reached out his hand to rescue him from the water.
Dickey explained, "After that experience I centered my life on trying to live the next five minutes well. For the first time, I told my wife Anne about my abuse and my story. I was totally ready for her to walk out, because I felt like that is what I deserved. However, she did the opposite and completely embraced me, despite what I felt like was the ugliest things about me.
"I began to risk things, risk relationships, risk trusting other people, risk trusting other men, which I had never been able to do. And I began to discover that God was in the middle of all of it."
Dickey credits his baseball resurrection to God's grace and empowerment. Over the next five seasons, he continued to refine his knuckleball and pursue excellence on the mound. In 2012, 16 years after he was told he was not good enough, he was given the Cy Young Award as baseball's best pitcher.
God's promises
"My Christian life has been full of ups and downs," Dickey testifies. "God does not promise you will never again experience trials, instead He tells us 'rejoice in our sufferings because we know that suffering produces perseverance, perseverance character, and character hope. And hope does not disappoint us, because God has poured out His love into our hearts by the Holy Spirit whom He has given us' (Romans 5:3-5).
"Ultimately, our lives hinge on the ability to make right choices and decisions. By God's grace, I made the most important decision a person can ever make. I invited Jesus Christ to be the Lord of my life and made a commitment to follow Him. God offers each of us the free gift of eternal life through faith in Jesus by 'confessing with your mouth that Jesus is Lord and believing in your heart that God raised him from the dead' (Romans 10:9). It is a wonderful and peaceful feeling to serve a God who loves me and cares about every detail of my life."
R.A. Dickey has allowed only one run or fewer in four of his last five starts and has not surrendered a home run in his last 20 innings. He is scheduled to pitch against the Washington Nationals on Friday, July 7.