Someday Mark Richt won't be the coach of the Georgia Bulldogs. We don't know when, of course, but sometime after that we'll begin to see the totality of his time in Athens and (I hope) begin to gather a whole new appreciation of it.
First off, understand this is coming from someone who grew up an Alabama fan, being written three days before Georgia is favored to derail the Crimson Tide's chances at a national title. Although I have family with UGA degrees and a Bulldogs hat from attending the 1995 Peach Bowl, a loss for them on Saturdays has never really bothered me. When I was a kid the state of Georgia had all the cool stuff Alabama didn't (pro sports, Six Flags), so it only seemed fair that my state's namesake university won a load of national titles to make things fair.
And while I don't necessarily root for Georgia, I'm a big Mark Richt fan.
The response from Richt and the Bulldog family to Southern University football player Devon Gales' spinal injury, suffered in Saturday's game in Athens, shouldn't come as a surprise because it's the very culture Richt has established in his 15 seasons at Georgia. That culture runs on the tracks laid by his testimony and faith in Christ, something fans are quick to celebrate and just as quickly attack, or at least point to as a sign of weakness. Not coincidentally, those perspectives seem to be determined by the outcome of Georgia's most recent game.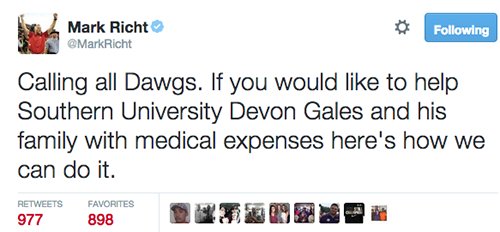 On Monday Richt, a member of Prince Avenue Baptist Church in Bogart, tweeted out a call for all UGA fans to get behind Gales and provide financial support. The move got media attention, as it should have. Football injuries are often seen as collateral damage, and we tend to move on to the next highlight quickly.
Richt is among those coaches – Hugh Freeze is another – who see their faith and platforms as ways – no, responsibilities  – to mold young men. Often, Christian coaches are caught in judgement calls of what is best for a player versus what is best for a team. Whatever guides your sense of morals is going to play into that, with the result being disected accordingly.
Football is a game but way too often becomes a deity. Should you ever question this, ask a pastor how he can already know who will and won't make it to Sunday School based on their team winning, especially if it was against a rival. Even the family of God can be tested by the unpredictable nature of which way an oblong ball bounces or if an 18-year-old pulled down a last-second pass.
For Mark Richt or any other coach whose faith is a strong part of their philosophy, there should never be a question as to their commitment to win. The difference is their definition of "win" is something so much bigger than games.