John C. Crawley Sr., son of Warren C. Crawley, Sr., and his wife. BPC
---
MOUNT VERNON — Last fall Brewton-Parker College dedicated the Warren C. Crawley, Sr., Commons which included two new twenty-four bed dorms as well as the renovation of two other dorms that now make up the complex. A number of the descendants of Mr. Crawley were joined by local dignitaries for the event. The ceremony climaxed an effort that began in 2017 to honor the life and legacy of Mr. Warren C. Crawley, Sr.
As an African-American born around 1842 in Richmond, Virginia, Mr. Crawley was stolen from his family and brought to Georgia as a slave. After emancipation, he migrated to Montgomery County, Georgia where he achieved success as a merchant and landowner.
Years later, he learned of the efforts of John Brewton and Charles Parker to begin a Christian school and the need for additional land to make the project a reality. On June 10, 1904, he donated five acres of his land to what was then called the Union Baptist Institute and would eventually become Brewton-Parker College.
This gift was remarkably gracious when one considers that the school was started by all white local Baptist churches. Even more, Crawley knew that the strict segregation of the time would not allow his grandchildren to attend the school. Mr. Crawley could have held bitterness over his own enslavement and the denial of his descendants to have an equal opportunity. Instead, he demonstrated a Christ-like spirit that embraced the teachings that Jesus gave His followers to forgive even as the Heavenly Father forgives (Matthew 6:12).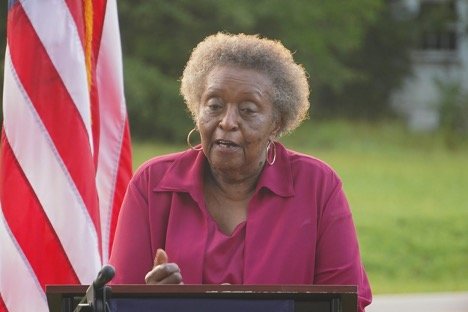 Mrs. Mattie Watson, Great-Granddaughter of Warren C. Crawley, Sr., speaking at the dedication of Warren C. Crawley, Sr. Commons. BPC
The impact of this selfless act was such that during the Georgia Baptist Convention in 1905, Crawley was recognized in a rare GBC resolution of commendation of an individual. Crawley was highly esteemed as a Christian man whose many good deeds included donating land for the Nepsey-Warren United Methodist Church.
Crawley built bridges across racial lines. He served as an example as to how Christian love can overcome the barriers of this sinful world that divides us. For as Paul stated in Ephesians 2:14, Christ "broke down the barrier of the dividing wall of hostility."
On August 25, 2020, the dedication of the Crawley Commons concluded a campaign in which over $1.1 million was raised to provide for the explosive growth in enrollment (48% since 2015) on the campus of Brewton-Parker College. The signage and monument that were erected will remind students and visitors alike of Crawley's legacy. Explore Georgia has included the Warren C. Crawley Sr. monument as a site on the African-American Heritage Tour. As a result, many from outside the local area will be drawn to the campus and will learn of his powerful story.
Efforts are ongoing to also raise scholarship funds in Crawley's honor to help under-resourced students, many of whom are the first in their families to attend college. The world of Crawley was harshly divided by segregation and prejudice, but through his magnanimous act we are reminded that Christ transcends all that separates us, and that in Him we find unity.
The present and future need for this message is tragically evidenced by the headlines of today's news. At the dedication ceremony, President Echols emphasized that the transformational mission of the college is to send out a generation of students who will shine forth this life changing gospel message the Mr. Crawley exemplified. (Matthew 5: 16)
---